Orava Castle (in Slovak: Oravský hrad) was built in 13th century after the Tartar invasion of 1241. One of the most beautiful castles in Slovakia is situated on a high rock above Orava river. The natural rock formation known as "castle cliff" has been inhabited since primeval times. "Castle cliff" is a limy spur 112 meters (367 ft) high surrounded by the very romantic waters of Orava river.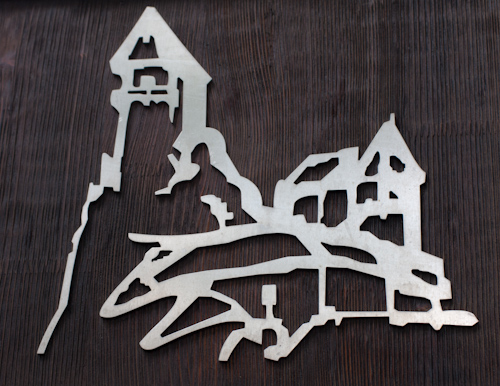 First mention about Orava Castle in history is dated in 1267. At that time the Orava Castle occupied a very small area. Castle consisted of a few buildings mainly built of stones. But fortified area was almost as large as the area of nowadays Orava Castle. Orava Castle is vertically divided to Upper, Middle and Lower Castle.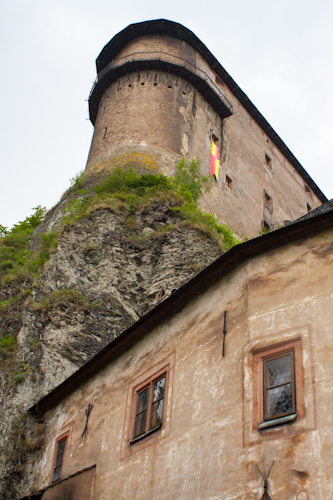 Generally building of the castles was motivated mainly by the need for protection. In case of Orava Castle there was the need to protect the very important long distant merchant´s route leading to Poland. Castle played an important role in protection of nearby state borders. Castle was used as an administrative centre for the region as well.
First owner of the Castle was Balaša family of Zvolen. Balaša family donated in 1267 the Castle to the King Belo IV. In 1298 ruled in region of Orava Matúš Čák Trenčanský. After that the Castle changed his owners many times.
Orava Castle definitely began losing its importance in the 18th century. Castle was used only for administrative purposes and as a accommodation for the official from Orava territory. In 1800 the fire destroyed the Castle and it remained deserted.
A small architectural reconstructions of the Castle started in the end of 19th century. Reconstruction was ordered by Pálffy family. Mainly the Gothic parts of the Middle Castle were restored (in period 1898 – 1914). Rooms of the Middle Castle were also furnished with new furniture.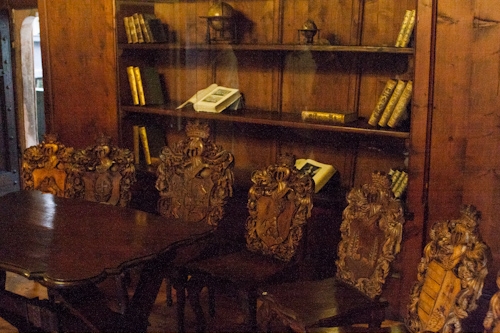 The most extensive (and expensive and permanent – say pessimists) reconstruction of Castle started in 1951 (main parts of Castle were reconstructed in period 1953 – 1968). Since 1948 is Castle definitely in government hands.