Vang Vieng, small village in Laos,  is situated on Highway #13 between Luang Prabang in the north and Vientiane in the south. It takes about 8 hours from Luang Prabang and around 4 hours from Vientiane by bus; little quicker by hired van. The backpacker centre in Laos – Vang Vieng – is spectacularly located on the Nam Song river.
Highway #13 is generally something different what people from West could expect. This road is only two lane and it is slowly but definitely deteriorating. The all road between Vang Vieng and Luang Prabang is mountainous and boasts amazing scenery. The road between Vang Vieng and Vientiane is flatter and less interesting. The road is mostly edged by small romantic rice fields and rural houses.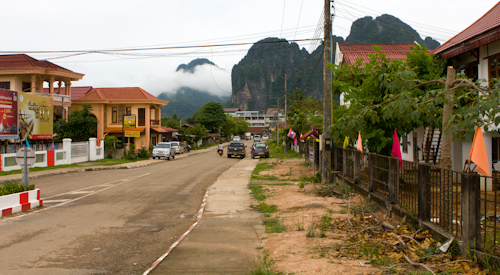 Vang Vieng is so small that everything is easily and comfortable reachable by foot. Anyway tourists can hire bicycle (10,000 kip for a day's rental; all prices in 2011) or motorcycle (40,000-60,000 kip for a day's rental plus gas).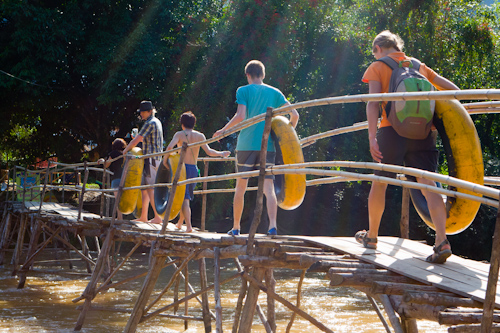 Main attraction in the village is tubing. A small office (but a big monopolist) in down-town of Vang Vieng organizes all tube rentals. They rent the tube (55,000 kip for the Tube plus 60,000 kip deposit) and organize a few miles transportation up the river Nam Song. During a sails swimmers can enjoy the magnificent view of the mountains rising directly beside the river. Generally the Nam Song river is calm and gentle. But a few can find it eerie. Especially during the strong rain.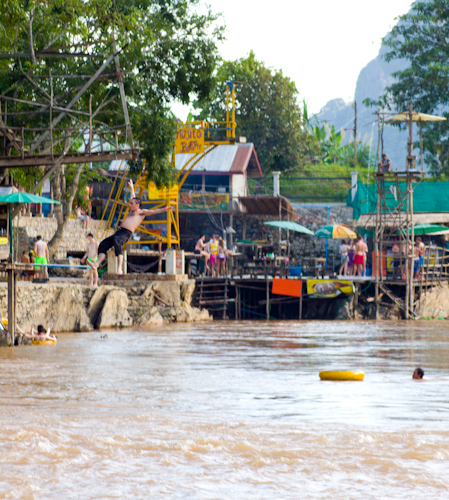 Many beer (Beer Lao is the most common) spirits and other pit stops are along the way. It is recommended to do not bring cameras or another electronic equipment.  Also tubes sometimes are going to be stolen while swimmer are drinking or relaxing with joint at bars. In that case is deposit lost and the ride untimely finished. It is not necessary to stop at the first few bars because there are a many more.