One of the funniest things to do in Laos is riding a (the slowest one is the best one) low boat down the Mekong river. Travelling from Huay Xai in the north part of Laos on the Thai border to Luang Prabang in Laos by slow boat (ticket costs cca $20-22) takes minimum 2 days. Travellers need a stopover for the night of course. In Pakbeng, obviously. There are several small friendly guest-houses.
To take a boat is a great and relaxing way to see the dramatic scenery of northern
Laos. The river Mekong used to be the main means of transport in Laos. That has changed rapidly as the whole country progresses to being sealed and paved, and road transport has undercut river transport in both – money and time.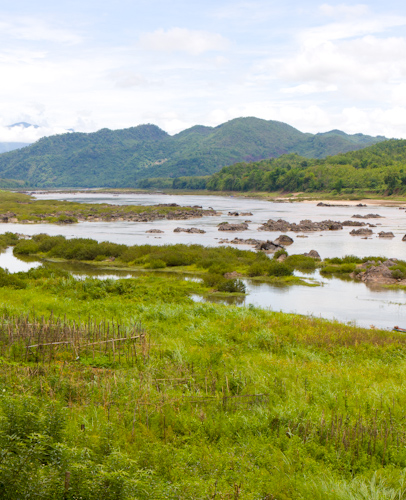 Yet for eager tourists who look forward to the experience of slow river trips through jungled limestone canyons, is boating the very top attraction. Attraction sometimes depending on the quality of shipmates. Boats and speed are very small, journey is very long and travellers can easily catch a cabin fever. Anyway – elsewhere in the country visitors can charter their own boat, but that is expensive and little logistically complicated.
If the people are in a hurry, the quickest way to move is by Lao speedboat. Speedboats are narrow flat-bottomed skiffs with an outsize car engine bolted to the back. Speedboats can  breeze along (passengers wear a helmet and a life jacket) at 50 mph (80 km/h). Journey from Huay Xai to Luang Prabang takes about 6 hours and costs cca $25-30.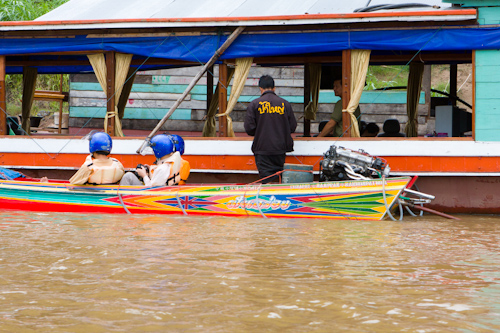 The long-tail boat ride on the Mekong from Luang Prabank to Pak Ou Caves (and back) is also a worthy day trip. This part of river Mekong is very beautiful. From the base of the cave Pak Ou entrance, visitors get a view of the high cliffs and swirling water of the Nam Ou River as it joins the Mekong.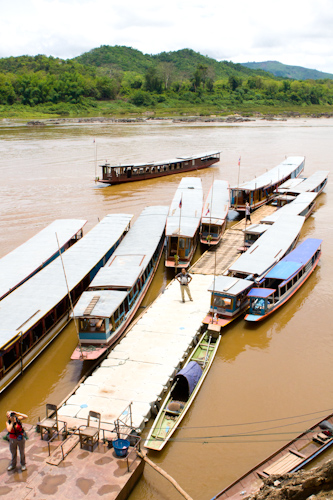 Inside the Pak Ou Caves is enshrined a pantheon of Buddhist statuary.
A day tour from Luang Prabang costs $5 per person in a shared boat.